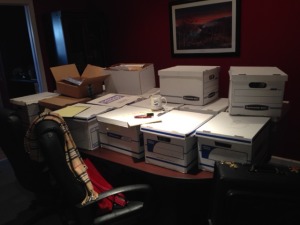 Settled! Time to box it up!
We settled a major medical malpractice case last week for a substantial award to our client. Unfortunately, we're not allowed to provide the actual settlement number, but let's just say it's a life changer for our client and we count that as a definite win!
After two years of hard work, $30,000.00 + in expenses, and sixteen banker boxes of documents, we get to pack this case up and move it to storage.
For those of you suffering from injuries at the hands of your doctor or other medical professional, please note, that while the law offices of TK Read PC, litigate medical malpractice claims, we have to be very picky about the cases we take. This is because medical malpractice cases in Georgia pretty much never settle prior to being brought to court and in order to file a case here you MUST include an affidavit of a medical professional practicing in the same area as the Defendant with your complaint. This affidavit MUST detail the standard of care the Defendant violated and state that this breach proximately caused the Plaintiff's injuries. And all of this MUST generally be prepared and filed in court within two years of the date of injury (unless it involves a foreign object left in the body, then within one year after discovery or the injury involves a minor, in which case different time limitations apply).
This is a steep, costly and time intensive burden. Finding an expert with the training, credentials and willingness to testify against a fellow professional within a short period of time requires your attorney to have tenacity, ingenuity and a large bank roll.
Approximately, nine out of ten medical malpractice cases that are filed in court and go to trial result in a verdict in favor of the Defendant Doctor. This isn't because the doctors have better lawyers, or their patient's did not suffer significant injuries, but because medical malpractice is hard to prove and juries are reluctant to hold medical personnel responsible.
60% of liability claims against doctors that are filed end up being dismissed without payment and of those going to trial, Plaintiffs win only 10%. The Case for Medical Liability Reform, American Medical Association.
The median medical malpractice jury award is under $500,000. See Medical Malpractice Insurance Claims in Seven State, U.S. Department of Justice, Bureau of Justice Statistics (BJS), March 27, 2007.
Since it costs on average $20,000.00-60,000.00 in expenses for a Plaintiff to bring their case to trial with the attorney paying expenses up-front and most malpractice cases are taken on a contingency fee (the attorney is paid a percentage of any settlement or award), an attorney has to be very sure he/she can bring the case to a successful conclusion.
As a result of this, we have to analyze a potential medical malpractice case very carefully before committing to it. We are more likely to take your case if:
It involves death, loss of use of limb or organ, paralysis, stroke, brain injury or other major injury;
It has medical expenses exceeding $70,000.00;
It has been less than a year since your injury occurred.